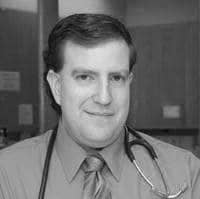 MissionCIT welcomes Dr. David J. Hendricks, MD as its Medical Advisor. Dr. Hendricks is an award-winning physician specializing in emergency medicine since 2003 and addiction medicine since 2017.
Dr. Hendricks is quite well known in the Southwest and South-Central EMS Regions of Connecticut, having begun his medical career on the ambulance as an Emergency Medical Technician (EMT), Paramedic, and Paramedic Instructor.
Upon graduating from medical school, he completed his residency in Emergency Medicine at Yale/New Haven.  Dr. Hendricks is board certified in emergency medicine by the American Board of Emergency Medicine. He is also board-eligible for certification in addiction medicine by the American Board of Preventive Medicine.
Additional certifications include:
Advanced Cardiovascular Life Support (ACLS) – instructor
Advanced Trauma Life Support (ATLS) – instructor
Pediatric Advanced Life Support (PALS)
Dr. Hendricks provides insight, oversight, and expertise for MissionCIT's Emergency Medical Services Courses and EMS All-In-One Programs.