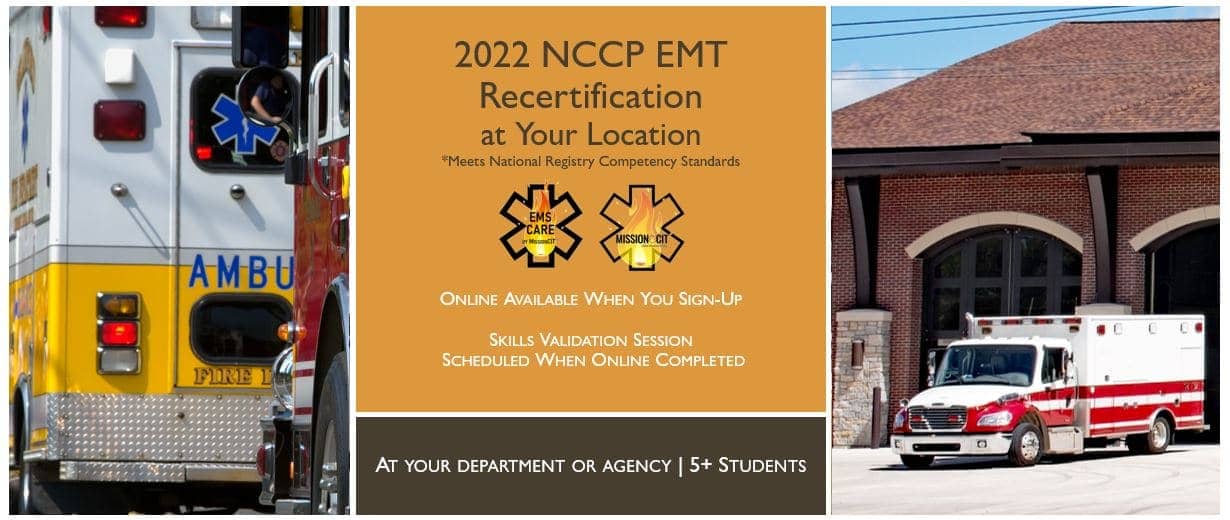 EMT NCCP 2022 Recertification Course | Your Location
This EMT NCCP 2022 Recertification Course | Your Location uses hybrid, online, and distance learning. So, this CT EMT Class meets the NREMTs latest requirement for EMTs, the National Continued Competency Program (NCCP). Hence, this program consists of the equivalent of 40 live classroom hours. In addition, it meets the current CTOEMS requirements for a minimum classroom and online training. Note that the Skills Validation sessions are included.
This is for Departments and Agencies that have five (5) or more students to recertify.  Most importantly, we will come to your location at a mutually agreed-upon time to do the skills assessment.  You may also want to check out the All-In-One program as it may be a good option.
EMT NCCP 2022 Recertification Course | Your Location Class Schedule:
Online Course Opens one (1) business day after you sign up| Available now through 31-Dec-2022
You take the course at your own pace – from 1 week to the end of the course
Skills Session will be individually Scheduled at Your Location after the online course has been completed. So, please coordinate schedule dates with the instructor when convenient.
The course includes:
National Component (20 Hours):  National component topics include airway and respiration, cardiovascular, trauma, medical, and EMS operations.
Local / State Component (10 Hours):  MissionCIT offers unique current content, compliant with State recommendations and current events
Individual Component (10 Hours):  MissionCIT provides CTOEMS approved educational content.
AHA | CPR-BLS for Healthcare Providers
EMT NCCP 2022 Recertification Course | Your Location works as follows:
You can take the online course material at your pace.  Take the quizzes too.  Your test scores will be submitted to the instructor who will advise the state when you pass.
Private links to the online material will be provided once payment is received.
While the 'distance' and 'classroom' material will be per the schedule at the training center.  Times to be announced.
Additionally, there will be scheduled times to communicate with the instructor via group chat and webinar.  In addition, those signed up will be advised of the timing with a link to join the distance learning sessions.
For the skills assessment, you will be advised of venue and timing options.  You are invited to join the New Initial EMT skills sessions for review, upon request.
All administrative aspects of the course are managed and submitted by MissionCIT.
Contact MissionCIT to sign up –
Payment Options:  Book the event below and:
Pay online using your credit card – Select Pay now via Credit Card
Select "Please Invoice me" and we will send an electronic invoice  – you can pay online, or send a check.  If your department is paying, you can forward it to the appropriate person. And then advise us so we can follow up.  We will give you access to Day 1 of the online course when you sign up.  We grant access for the other days upon receiving payment.
Note that you can book more than one person for the course at one time.  However, you do need to fill in the information for each student.
All Classroom and Skills Certification sessions will be at:
Your Location | Please contact us at

[email protected]

– again we require 5 students or more for this option
Social Distancing Protocols then in effect fully observed!
Contact MissionCIT if you have questions.  Call us at 203-649-5090 |

[email protected]
Please sign up below!

  All fees are included.