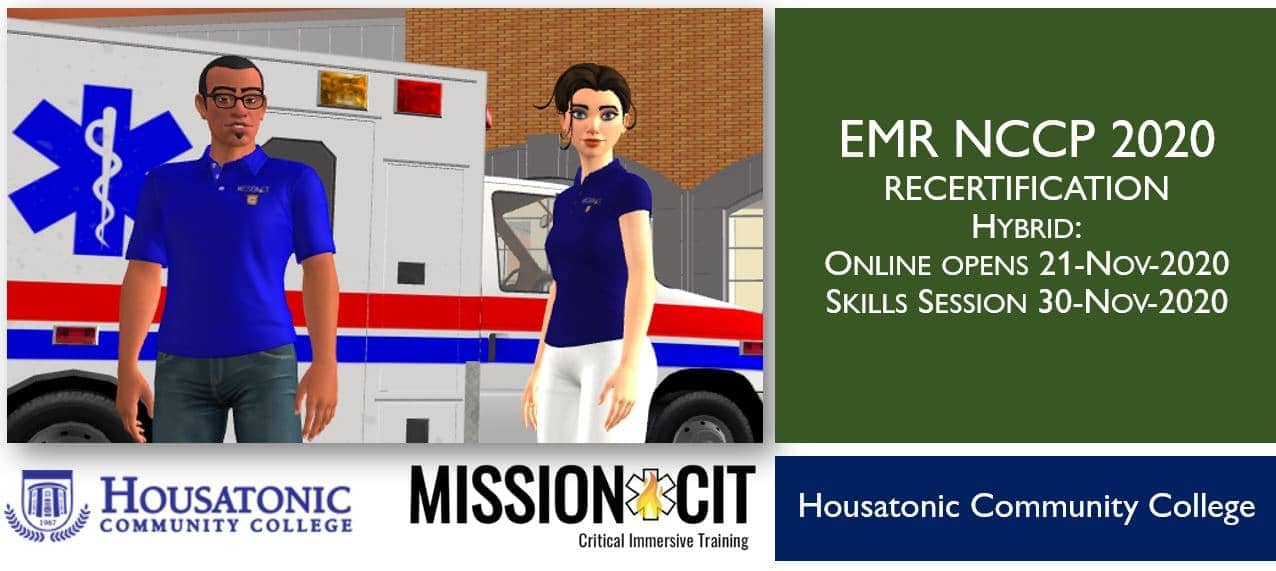 EMR NCCP 2020 Recertification Course | HCC | 21-Nov-2020
EMR NCCP 2020 Recertification Course | HCC | 21-Nov-2020 course uses hybrid, online, and distance learning.  It meets the NREMTs latest requirement for EMTs, the National Continued Competency Program (NCCP). This program consists of the equivalent of 22 classroom hours. It meets the requirements for online and hybrid training.  Skills Validation sessions are included.
The course includes:
National Component (8 Hours):  National component topics include airway and respiration, cardiovascular, trauma, medical, and EMS operations.
Local / State Component (4 Hours):  MissionCIT offers unique current content, compliant with State recommendations and current events
Individual Component (4 Hours):  MissionCIT provides CAPCE approved educational content.
Combo distance learning and classroom training including CPR for BLS Certification and Skills Sessions (6 hours)
The course works as follows:
You can take the on-line course material at your pace.  Take the quizzes too.  Your test scores will be submitted to the instructor who will advise the state when you pass.
Private links to the online material will be provided once payment is received.
The 'distance' and 'classroom' material will be per the schedule at the training center.  Times to be announced.
Additionally, there will be scheduled times to communicate with the instructor via group chat and webinar.  Those signed up will be advised of the timing with a link to join the distance learning sessions.
For the practical components, you will be advised venue and timing options.  The end date of the course will be one of the available sessions.
All administrative aspects of the course are managed and submitted by MissionCIT.
Sign up for this course with Housatonic Community College!

Please contact the course organizer if you have any questions!
This is the full recertification course!  All fees are included.