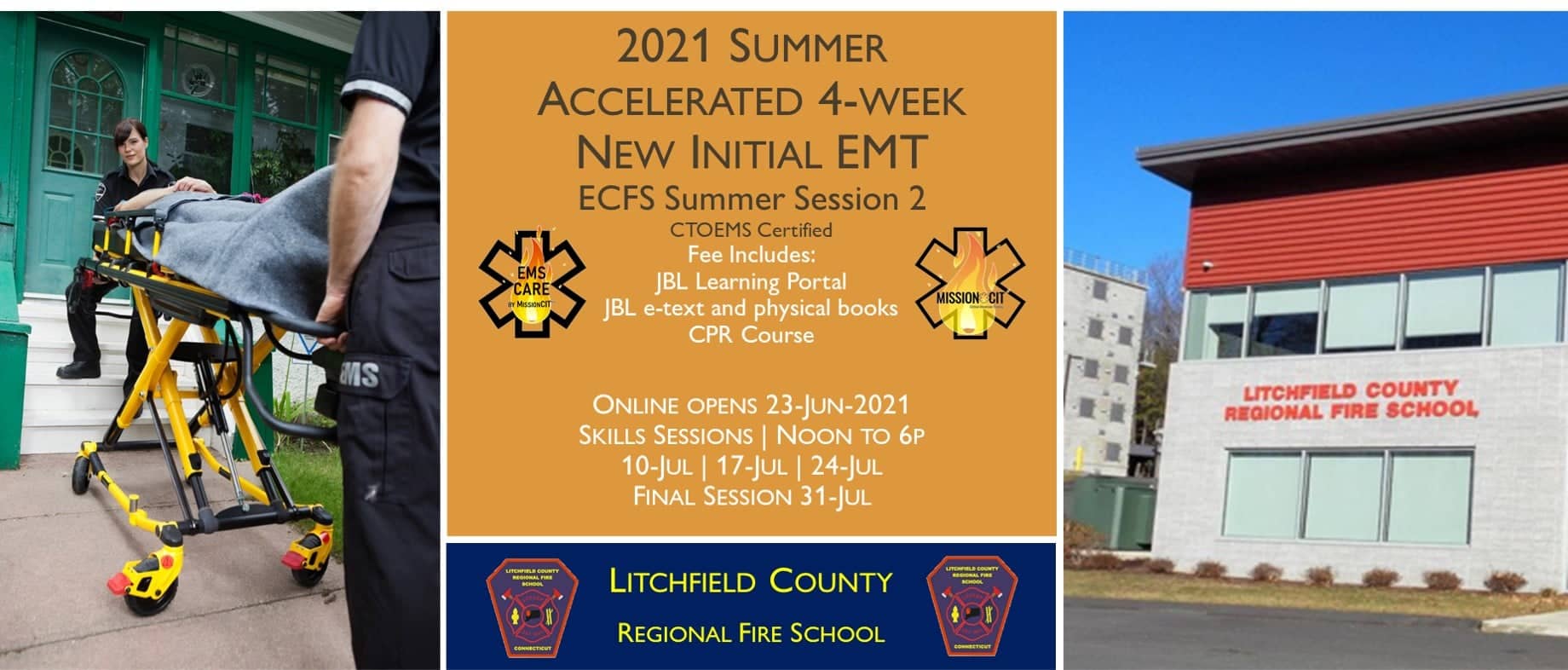 2021 Summer EMT Accelerated Initial Course | LCRFS Session 2
Litchfield County Regional Fire School (LCRFS) and MissionCIT offer the following fully accredited 4-week Hybrid EMT Initial course.  This 2021 Summer EMT Accelerated Initial Course | LCRFS Session 2 includes
Human anatomy, physiology, and pathophysiology
Patient Assessment, treatment, and emergency care
Patient Transportation
Interactive online courses available 24/7
Scheduled live distance learning sessions
Scheduled live online group study sessions
Three (3) skills sessions plus a final skills evaluation
Fees Include:
JBL Learning Portal
JBL e-text and physical text
AHA-BLS CPR Course for Healthcare Providers
2021 Summer EMT Accelerated Initial Course | LCRFS Session 2 | Important Dates:
Book pickup at LCRFS: 19-June-2021 | 2pm to 4pm
Online starts 23-June-2021
Skills Session

10-July-2021 | 12noon to 6pm
17-July-2021 | 12noon to 6pm
24-July-2021 | 12noon to 6pm
31-July-2021 | 12noon to 6pm
Payment Options:  Book the event below and:
Pay online using your credit card – Select Pay now via Stripe
Select "Please Invoice me" and we will send an electronic invoice via Square – you can pay online, or send a check.  If your department is paying, you can forward it to the appropriate person, and advise us so we can follow up.  We will give you access to the online course when you sign up.  A 25% deposit is required before the online course begins.  Contact MissionCIT if special arrangements are required.
Note 1:  you can book more than one person for the course at one time.  You do need to fill in the information for each student.
All Classroom sessions will be via Distance Learning
You will receive schedules from the Instructor that include times and the assigned MissionCIT Virtual Classroom for class instruction.  Times are usually in the evening hours.
There will also be a dedicated MissionCIT Classroom including breakout rooms, set up for just this course for virtual study sessions with other students.
All Classroom and Skills Certification sessions will be at:
LCRFS: 606 Burr Mountain Road, Torrington, CT 06790
Social Distancing Protocols fully observed!
This is the full Initial New EMT course!  All fees are included.
Contact MissionCIT if you have questions  Call us at 860-872-7000 x1245 | [email protected]
Please sign up below!

  All fees are included.

Back to Upcoming New Initial EMT Courses